Gilmore Girls:

Rory sweater with gray trim

This sweater was in one of the college seasons, but I'm having trouble locating it.  Will revise this page when I do.

.It's an Anthropologie sweater with gray trim down the center.

For my version, I took a navy blue cardigan my mother-in-law gave me (a Chaps Ralph Lauren one) and looked around my sewing stash for gray ribbon.  The closest thing I found was a sweater knit in gray.  I decided to use that and cut a strip to wrap all the way around the center.  Sewed it down, then secured the knit at the buttonholes and opened them up.  Added gray buttons and it was done.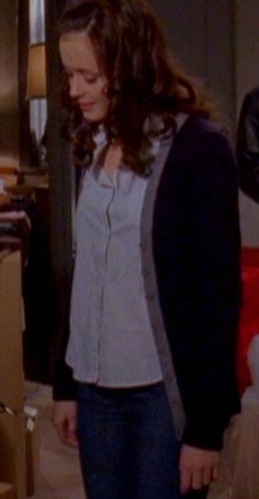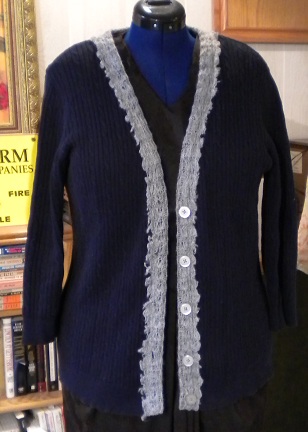 Disclaimer:  Pictures are the property of the copyright holder.  This site is non-profit, and is in no way affiliated with any of the copyright holders. No copyright infringement is intended - copyrighted images are being used for costume study.