Moonlight:

Beth Turner brown blouse

Episode: #4, Fever

Pattern: S2365, with a piece from S2223

Fabric: Cotton

Time per blouse: About 4-5 hours from cutting to finish

I modified the front to be one piece instead of two and added a yoke. Changing from two to one piece gave me enough to gather nicely to the yoke. I also changed the pocket shape. Beth's blouse has upper and lower pockets, so I "borrowed" the pockets from Simplicity 2223 to get the right size. The sleeves I made a bit longer, as on my trial run in green I thought the folded cuff was too small. The tabs on the sleeves I changed to a pointed shape on the end and used D rings instead of folding over the sleeve to cuff it and fixing it in place with a button. I also made a cloth belt, but decided not to use thread carriers for it. My original intention was to use snaps to close it, but after using an entire package of snaps in practice and never having them work, I went with buttons instead.

I ended up making two blouses, one in brown and another in green.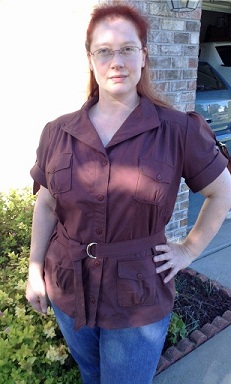 Disclaimer:  Pictures are the property of the copyright holder.  This site is non-profit, and is in no way affiliated with any of the copyright holders. No copyright infringement is intended - copyrighted images are being used for costume study.