.

Black Skirt

This skirt is worn with a white blouse and a red sweater vest with a black diamond cut out pattern.  Her skirt has a yoke and both center and back seams.  All seams are encased in a leathery look black trim.

Pattern: S2058 as the base

I chose this pattern because yokes look horrible on me and it has no yoke.  I also only encased half the front and back seams instead of every seam, mainly because the trim was terrible to work with and I didn't have enough.  I only had four yards and needed more like five.

Sweater vest

This vest is a v neck and you can see the black of a full sweater layer beneath the red.  A diamond pattern is stitched on the front and the red cut away to reveal the black beneath.

For my version, I took two similar weight sweaters I bought at Goodwill, took off the sleeves, aligned the black inside the red, and hemmed the armholes together.  I then sewed around the v neck of the red sweater and cut away the black that showed above.  From there, I lined up the sides and secured them all the way down.  I drew a diamond grid on the front with disappearing fabric ink, stitched it, and cut away the red.

Blouse

I used one I'd found at Goodwill.

Gilmore Girls:

Lorelei's outfit from S4 'The Fundamental Things Apply'

completed in 2013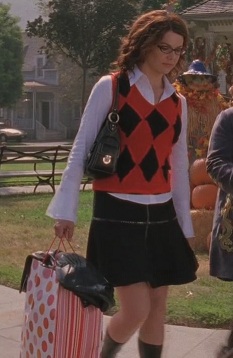 Disclaimer:  Pictures are the property of the copyright holder.  This site is non-profit, and is in no way affiliated with any of the copyright holders. No copyright infringement is intended - copyrighted images are being used for costume study.