Lorelei Gilmore:

Royal blue sweater coat

Finished February 2013 and another version in August 2013

She wears this in S1 episode 6: "Rory's Birthday Parties" when she and Emily go shopping for a birthday gift for Rory.

Version #1:

Fabric: Ponte knit

Pattern: Simplicity 1759

Construction: I eliminated a full lining and added a tie belt and belt loops.

Well, I made a poor choice with the fabric and it looked more like a robe than a coat.  I never even took a picture and this version went directly to Goodwill for someone else to decide what to do with it.

Version #2:

Fabric: Sweater knit in a gray blue

Pattern: New Look 6656

Construction:

I like this version much better and have worn it a few times.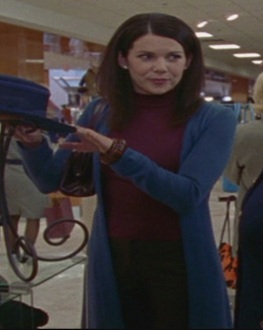 Disclaimer:  Pictures are the property of the copyright holder.  This site is non-profit, and is in no way affiliated with any of the copyright holders. No copyright infringement is intended - copyrighted images are being used for costume study.