Moonlight:

Beth cream sweater from 'Click'

v2 completed February 2013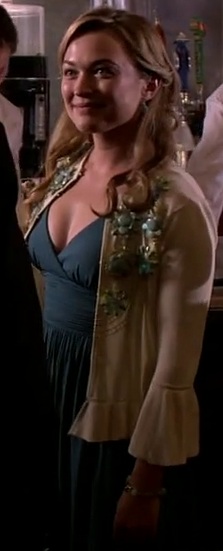 Version #1:

I started with a cream colored sweater I bought at Kohl's, lined the front with heavyweight fusible interfacing to hold the weight of the beads, then added three rows of trim in lines down the front of the sweater, turning the ends under.  Using my walking foot made it nice and easy! I changed the placement for the designs and spread them out.

It took about six hours to complete all of the beading.

Version #2:

I found a cream knit at Joann Fabrics and modified a New Look pattern to get the right look.  For this more accurate version, I didn't spread the designs out.



Disclaimer:  Pictures are the property of the copyright holder.  This site is non-profit, and is in no way affiliated with any of the copyright holders. No copyright infringement is intended - copyrighted images are being used for costume study.