1929 Draped Dress

Completed March 2013

This was my first draped project.  My daughter and I were looking through Costume in Detail: Women's Dress 1730-1930 by Nancy Bradfield and she liked this dress, so I decided to give draping a serious try.  Previous attempts at draping had gone terribly, but I'm the eternal optimist with it.

The draping actually went fairly well.  The only problem I had was with the skirt and hip drape and they continued to be a problem.  We ended up taking in the hip drape in two places and shortening the hem.  Tori wanted the lining to show a little.  The dress has been ironed since the pictures were taken.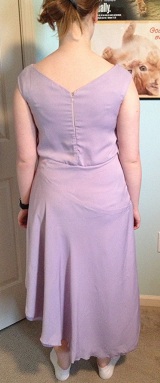 Disclaimer:  Pictures are the property of the copyright holder.  This site is non-profit, and is in no way affiliated with any of the copyright holders. No copyright infringement is intended - copyrighted images are being used for costume study.